Create a new Family Holiday Tradition
---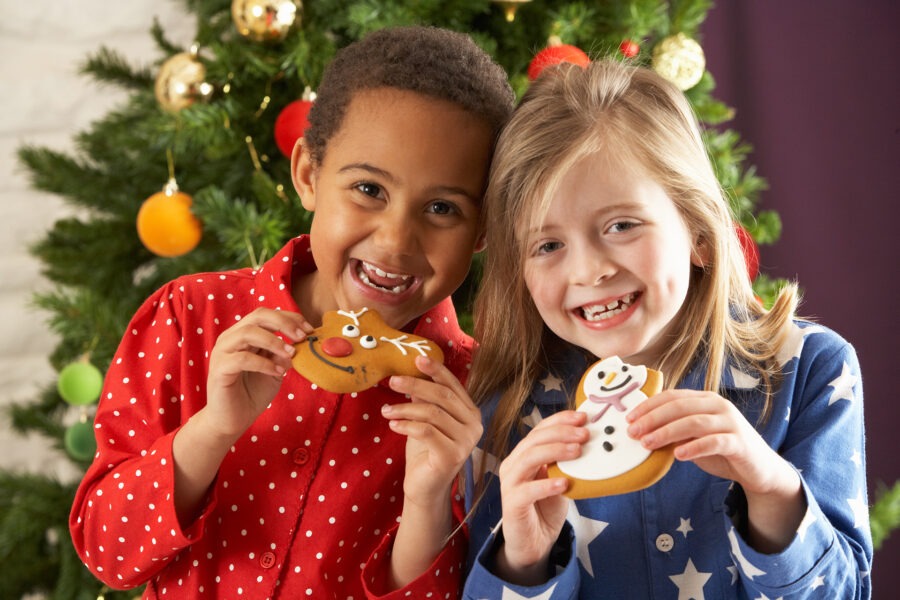 Prepare for the holidays in your pajamas at Restaurant R'evolution, part of our Royal Snownesta celebration! Children can wear their favorite holiday pajamas, deliver their wish list and visit with Santa and the Sugarplum Fairy Princess in Stay Safe with Sonesta style. Sip only the best house-made hot chocolate, warm apple cider and enjoy delicious food while decorating your own cookies (Chef John Folse's famous recipe of course)!
Seatings will occur 9:30-11:00 a.m. and 12:30-2:00 p.m. on December 5, 6, 12, 13, 19, and 20.
ADULTS

CHILDREN UNDER 12

$65

Includes Santa's Pajama Party, menu,
bottomless mimosas or non-alcoholic mocktails.

$45

Includes Santa's Pajama Party, menu,
and decorate-your-own cookies kit.

Ticket price does not include sales tax and 20% service charge. Discounted event parking is available for $12 at the hotel's garage. The Parking Garage is located at 700 Bienville Street located underground between Royal and Bourbon Streets. Please arrive early to avoid delays. Based on availability. View Frequently Asked Questions on Eventbrite.
Celebrate the Season
Take part in Sonesta's Culture of Caring! Every year during the holiday season, Royal Sonesta New Orleans partners with Children's Hospital of New Orleans to give back to the community. This collaboration provides not only the patients with unique and memorable Christmas experiences, but also meaningful financial contributions to those who need it most.
Each child is invited to `share the magic` of the season by donating a small, unwrapped gift for the Children's Hospital Toy Drop.
Additionally, for every $5 holiday donation in support of Children's Hospital of New Orleans, you'll be entered in a raffle to win a grand prize package! The randomly selected raffle winner will receive:
60,000 Sonesta Travel Pass points*, which can be used for a two-night stay at Royal Sonesta New Orleans or another Sonesta Hotels property
$100 gift certificate to experience one of our on-site venues Restaurant R'evolution, Desire Oyster Bar and/or The Jazz Playhouse.
In partnership with Royal Sonesta New Orleans, Restaurant R'evolution is committed to doing our very best to help you Stay Safe with Restaurant R'evolution and Sonesta. Full Stay Safe program details can be found at Sonesta.com/StaySafe.
*TERMS AND CONDITIONS: PRIZE RECIPIENT MUST BE A SONESTA TRAVEL PASS MEMBER. TO JOIN SONESTA TRAVEL PASS, PLEASE VISIT SONESTA.COM/TRAVELPASS. SONESTA TRAVEL PASS POINTS CARRY NO CASH VALUE, ARE NON-TRANSFERABLE, AND ARE FOR ONE USE ONLY. PRIZE CAN BE REDEEMED FOR TWO FREE NIGHTS AT ROYAL SONESTA NEW ORLEANS, OR ANY PARTICIPATING SONESTA PROPERTY, IN THE FORM OF POINTS, UP TO 60,000 POINTS. REDEMPTION RESERVATIONS MUST BE MADE IN ADVANCE BY CALLING THE CUSTOMER CARE TEAM AT 1.855.622.2160 OR 1.617.658.0078 OR BY EMAILING TRAVELPASS@SONESTA.COM AND ARE SUBJECT TO AVAILABILITY. GRATUITIES AND INCIDENTALS ARE EXCLUDED. FOR PROGRAM DETAILS AND TERMS AND CONDITIONS, VISIT SONESTA.COM/TRAVEL-PASS.